Hello Brands & Manufacturers!
Efficiently manage your resellers & ensure a healthy margin for all
MAP & MSRP Monitoring
Monitor the MSRP prices of your distribution channel in any region country, currency or online shop, on a daily basis, avoid price wars and aggressions in your channel.

Lowest price
each reached per date Spot price trends
per category Instant historical data
of the last 90 days Quickly find
MSRP violations Secure the
sales of your brand
Benefits for your Brand
Secure the vision set for your branding
Monitor and report on market analysis that helps you apply the vision of your brand against competitive brands without risking sales.
Reporting to Company Management
Gain time on daily reporting requested from top management , with ready to download reports easy to read by commercial oriented people.
Across regions & countries monitor
Unify and manage data from multiple regions / countries or currencies within one platform. Compare the performance of each branch.
Quickly identify your brand coverage within resellers
Monitoring how your brand is penetrating into the online retailers and keeping up with their demand while pressuring purchase officers to always have stock is not an easy task. Through our easy to read charts and reports , you can retrieve the correct information within minutes and take action.
Follow up with resellers that are slow on orders and stock, identify if your competitor brands are taking more space within your reseller online shelves, secure your brand continuity and ensure margins that grow your channel.
Stop browsing in Price Comparison websites
With TGN services you will have all the competitor data you ever needed as seen in the competitor webshops to analyse their pricing strategies.
Customize your own reports or instantly download our pre edited spreadsheets.
Get your valuable data through our powerful API, Json / CSV / XML / Excel feeds, delta files and easy to read spreadsheets. You can always customize your own reports or use one of the default ones that are one click away. Our reports follow a row by row logic for product information including all the basic information for your daily reporting such as basic product information, Lowest / Average / Highest price per article, amount differences shown by percentage and currency with pre-edited coloring of red/green based on the positive/negative difference.
We take proud in strictly being just a data provider and not going into the actual Pricing Procedures, despite that , you will meet small features like price raise proposals into our reports based on competitor availability and/or price differences.
Easy overview MSRP performance of your brands
With our one click charts and reports, you can directly have an overview of the amount or percentage of products per brand that are either priced Over / Within / Under the Manufacturer's Suggested Retail Price. Monitoring MAP & MSRP violations have never been easier.
Just filter the reseller / category you wish to oversee. Hover on top of colored bars showing you each brand performance, click and directly get a spreadsheet including detailed price information per reseller.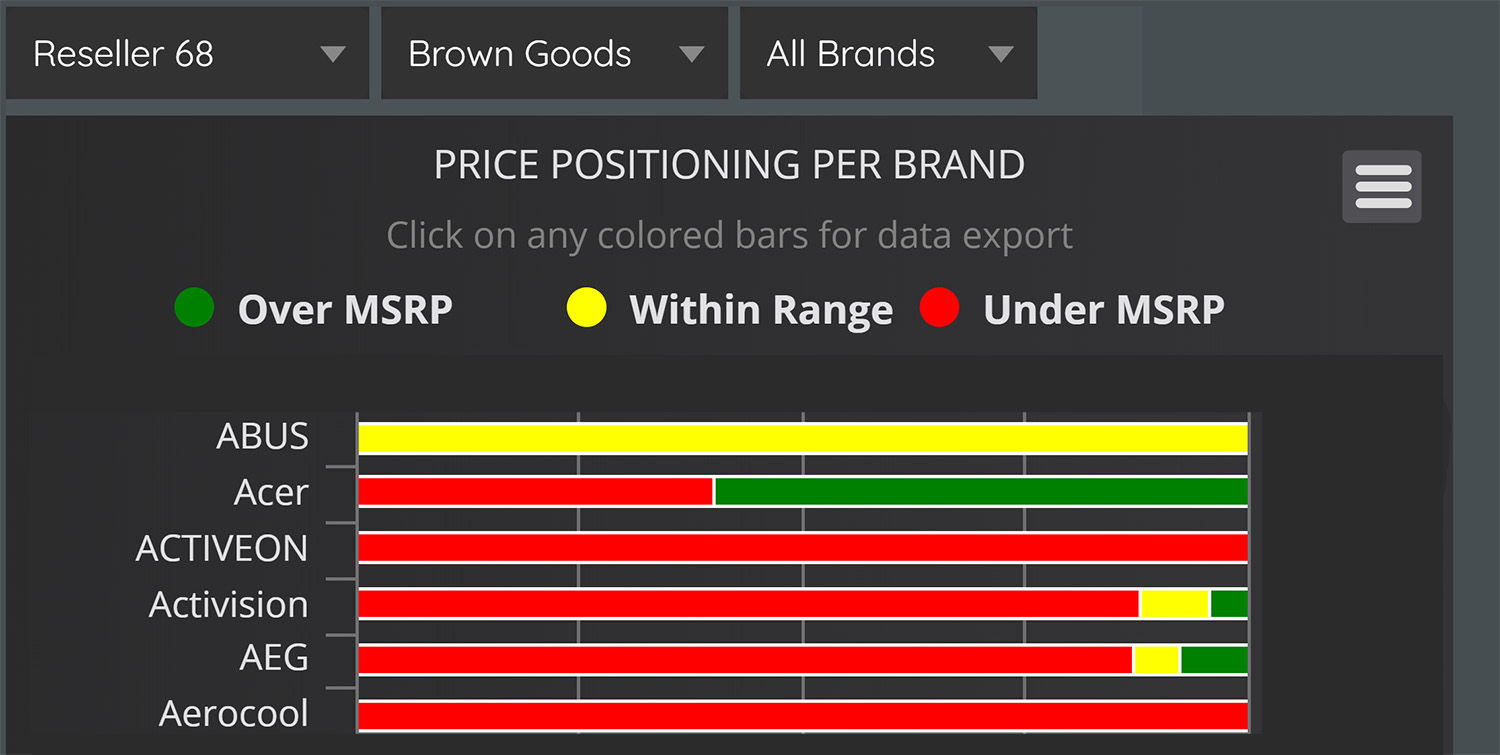 How it works
You provide us with a simple list of the products you need to monitor. Just their product names & brand will do the Job. Additionally we ask you to provide your SKU numbers so that we can both identify your products easier.
Some clients also have each product's EAN / MPN code. Although this information is not vital , it surely boosts the quality assurance checks we perform before we feed you the data. If you change assortment daily, we automate this procedure so that every morning our systems read your new list adding new products and removing the obsolete ones from your monitored relevant articles.
We train our systems to crawl your competitor websites and find the exact product pages that match of your articles even on color / spec / bundle level.
Our systems store the matched data and monitor them directly from the product pages of your competitor, simulating an actual visitor we get all the information provided like price, availability, shipping, promotion, cashbacks, rankings etc. We update this dataset multiple times per day so that we always have the latest real-time information of the market.
Our in-house Quality Assurance team uses our sophisticated validation tools to all day monitor and resolve any missing data, wrong matches or outdated information that might reach your end.
TGN data workflow is 90% automated and 10% human oriented, this way we guaranty fast data while minimizing amounts of information that could harm your pricing strategies.
We feed you this valuable information using multiple data delivery ways. You can use API calls to get the data you need directly into your systems, browse automatically and import hourly full feeds or small delta feeds that are created every 15' including only what has changes into the market.
Our Cloud Analytics Dashboard is fed in real time showing you the latest trends and movements of your competitors giving you direct access to ready to download reports.
Start or Upgrade your Pricing Data now!
Join the elite of retailers and manufacturers that trust our services
Trusted by



Wait no more...
Get
Data from TGN

NOW!

Thinking about boosting your sales & profit? but, you want a enterprise partner and not a small tool, just hit the request button!
Don't wait
Request test account
Know first about
New features